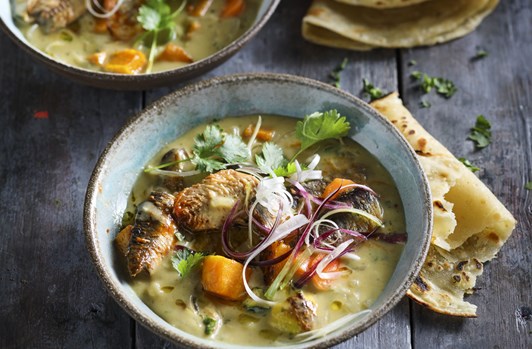 COCONUT FISH CURRY SOUP WITH ROTI
Served with roti and garnished with coriander, our Coconut Fish Curry Soup recipe can be cooked in 30 minutes, using our Lucky Star Pilchards in Hot Chilli Sauce and baby vegetables. Lucky tip: Tear the warmed roti or flatbread into pieces for dipping into the soup.
View Recipe
PILCHARD MEATBALLS IN SALAD CUPS
Our Pilchard Meatballs In Salad Cups recipe makes for the ideal tasty and satisfying family snack. This dish is packed with protein and makes 12 cups. Lucky tip: Top the meatballs with cucumber and carrots.
View Recipe
MSANZI-LICIOUS PAP CUPS RECIPE
Our Msanzi-Licious Pap Cups recipe is a great finger-food option. Add some flavour by serving it with mayonnaise or mango atchar! Lucky tip: Spoon the warm pilchards into the pap cups and top it with grated cheese and chopped parsley.
View Recipe