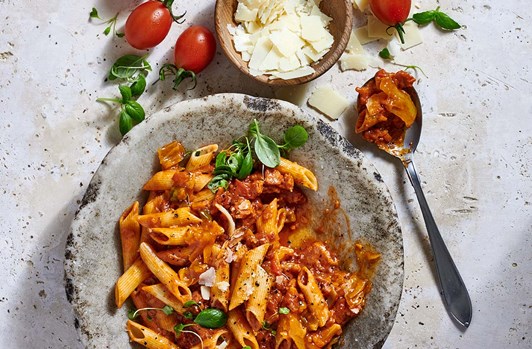 CHAKALAKA CREAMY PASTA
Add some Chakalaka to your usual pasta by trying our Chakalaka Creamy Pasta recipe. Serve it with a sprinkle of fresh basil and parmeasan cheese.
View Recipe
PILCHARD STUFFED CABBAGE ROLL BAKE
Try our Pilchard-Stuffed Cabbage Roll Bake recipe that serves 8 and made with our Lucky Star Pilchards in Tomato Sauce. Lucky tip: Bake in the oven for 20 – 25 minutes and finish under the grill for 2 minutes to brown the crumb layer.
View Recipe
SARDINES OPEN SARMIE
With so many sandwich options to choose from, try our Sardine Open Sarmie recipe, topped cottage cheese, rocket leaves, onions and tomatoes. Lucky tip: Finish with a light sprinkling of pepper.
View Recipe