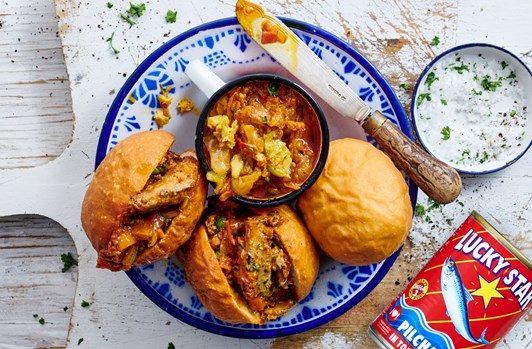 Magwinya (Vetkoek) with Pilchards Curry Mince
Magwinya (Vetkoek) with Pilchards Curry Mince
View Recipe
PILCHARD MEATBALLS IN SALAD CUPS
Our Pilchard Meatballs In Salad Cups recipe makes for the ideal tasty and satisfying family snack. This dish is packed with protein and makes 12 cups. Lucky tip: Top the meatballs with cucumber and carrots.
View Recipe
KASI-STYLE CHAKALAKA SALAD
Need a new salad recipe? Try this yummy Kasi-Style Chakalaka Salad recipe in 4 simple steps. Lucky tip: Season the salad with salt and pepper, and serve hot or cold as a side dish.
View Recipe