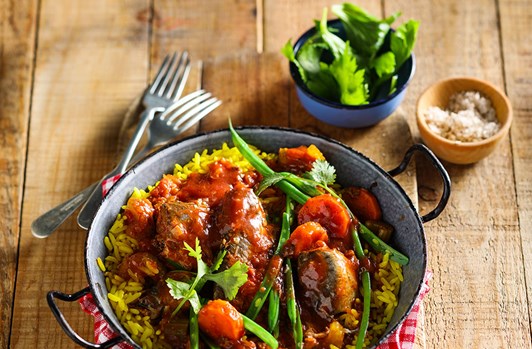 PILCHARD BREDIE WITH YELLOW RICE
A combination of rice and pilchards, filled with so much flavour. Our Pilchard Bredie With Yellow Rice recipe serves 6 guests within less than an hour of preparing. Lucky tip: Add the bredie on the bed of yellow rice and top with celery leaves.
View Recipe
PILCHARD MEATBALLS IN SALAD CUPS
Our Pilchard Meatballs In Salad Cups recipe makes for the ideal tasty and satisfying family snack. This dish is packed with protein and makes 12 cups. Lucky tip: Top the meatballs with cucumber and carrots.
View Recipe
CHAKALAKA JOLLOF RICE
Enjoy our tasty Chakalaka Jollof Rice meal using our Lucky Star Chakalaka Mild & Spicy sauce, seasoned with salt and pepper.
View Recipe