LUCKY STAR PILCHARD & NOODLE SALAD
Make all of your noodle-lovers smile with our Lucky Star Pilchard & Noodle Salad recipe, using the Lucky Star Pilchards in Chilli Sauce. Lucky tip: Mix mayonnaise, plain yoghurt and finely chopped parsley together and pour it over the dish.
View Recipe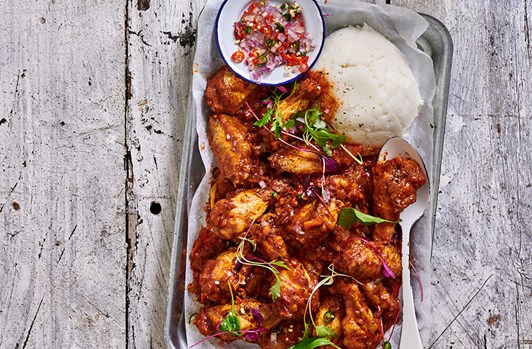 FRIED CHAKALAKA CHICKEN WINGS
This tasty Fried Chakalaka Chicken Wings recipe makes for the ideal side dish at the dinner table. Prepare in 3 easy steps and serve 6 to 8 people. Lucky tip: Serve this delicious dish with any starch of your choice.
View Recipe
PILCHARD BURGERS WITH CHAKALAKA
Not only do you have the opportunity to make the famous Lucky Star burger, you get to show off with your guests by using our new Chakalaka sauce! This recipe is certainly not one to be missed!
View Recipe