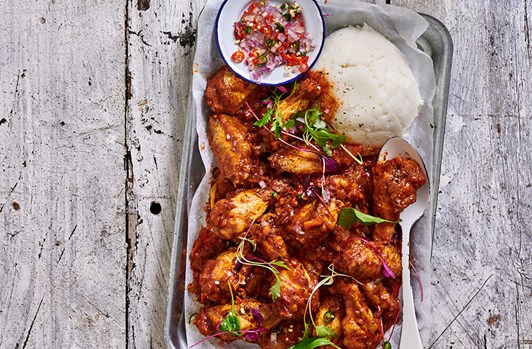 FRIED CHAKALAKA CHICKEN WINGS
This tasty Fried Chakalaka Chicken Wings recipe makes for the ideal side dish at the dinner table. Prepare in 3 easy steps and serve 6 to 8 people. Lucky tip: Serve this delicious dish with any starch of your choice.
View Recipe
LUCKY STAR PILCHARD PIZZA
Serve this delicious Lucky Star Pilchard Pizza recipe topped with melted cheese and pepper. Lucky tip: Mix the tomato pilchard sauce with 2 tablespoons of sweet chilli sauce to use as base sauce.
View recipe
SPICY PAELLA
With 6 easy steps to prepare, try our version of the traditional paella dish; the Spicy Paella. Lucky tip: Adjust the seasoning by adding a little salt and pepper, and garnish with parsley.
View Recipe