Seafood Pot
Our Seafood Pot recipe makes for a quick and warming supper meal. Using our Lucky Star Pilchards and Smoked Mussels, and pepper to add to the taste, you can cook this meal in 30 minutes. Lucky tip: Garnish with a sprinkling of chopped parsley and serve with crusty bread.
View Recipe
BAKED FISH SOSATIES WITH PAPRIKA POTATO WEDGES
Looking for a new sosatie recipe? Serving you our Baked Fish Sosaties With Paprika Potatoe Wedges that's easy to make in 9 simple steps. Lucky tip: Finish off under a hot oven grill and brown for 2 – 3 minutes.
View Recipe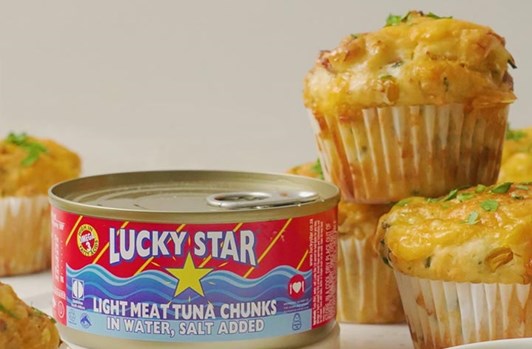 cheesy tuna & corn muffins
This cheesy tuna corn muffins is the perfect lunchbox treat. Simply add in one can of tuna meat chunks and you'll have tasty cheesy muffins! Lucky Tip: Freeze any leftover muffins for up to 3 months!
View Recipe