CHAKALAKA JOLLOF RICE
Enjoy our tasty Chakalaka Jollof Rice meal using our Lucky Star Chakalaka Mild & Spicy sauce, seasoned with salt and pepper.
View Recipe
SAUCY FISH MEATBALLS & SPAGHETTI
A great spin on the traditional spaghetti and meatballs, our Saucy Fish Meatballs & Spaghetti recipe is great for a lunch or dinner dish. Lucky tip: Pile the spaghetti into pasta bowls, top with four to five fish meatballs per person and scatter a few basil leaves on top of each serving.
View Recipe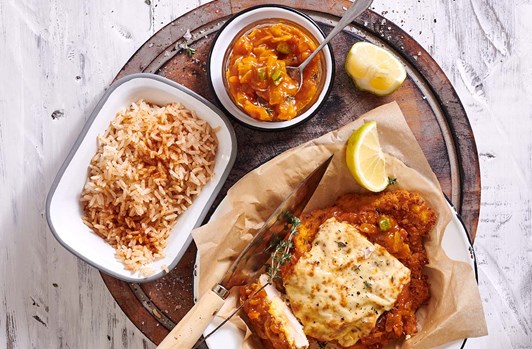 CHICKEN SCHNITZEL WITH CHAKALAKA & MOZZARELLA TOPPING
Let this delicious crunchy Chicken Schnitzel With Chakalaka & Mozzarella Topping recipe satisfy the whole family, topped with Mozzarella cheese. Lucky tip: Serve with spicy rice or potatoes.
View Recipe