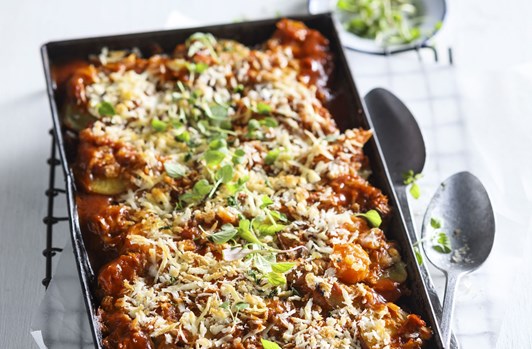 SWEET POTATO BAKE WITH TUNA VEG
Filled with tuna, mushrooms and Parmesan cheese, our Sweet Potato Bake With Tuna & Veg recipe is ready to be served heated and golden. Lucky tip: Place in the oven for 10 – 15 minutes, and then garnish with the rosemary.
View Recipe
LUCKY STAR PILCHARD PIZZA
Serve this delicious Lucky Star Pilchard Pizza recipe topped with melted cheese and pepper. Lucky tip: Mix the tomato pilchard sauce with 2 tablespoons of sweet chilli sauce to use as base sauce.
View recipe
SAUCY FISH MEATBALLS & SPAGHETTI
A great spin on the traditional spaghetti and meatballs, our Saucy Fish Meatballs & Spaghetti recipe is great for a lunch or dinner dish. Lucky tip: Pile the spaghetti into pasta bowls, top with four to five fish meatballs per person and scatter a few basil leaves on top of each serving.
View Recipe