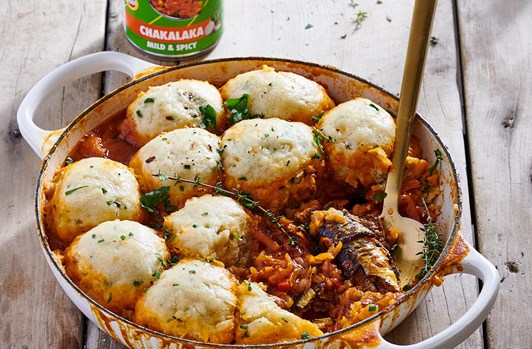 PILCHARD STEW WITH CHALALAKA DUMPLINGS
Prepare it as a main dish or side dish in 5 easy steps; our Pilchard Stew with Chakalaka Dumplings is filled with flavour. Lucky tip: This recipe is perfect for a date for 2.
View Recipe
SPICY PAELLA
With 6 easy steps to prepare, try our version of the traditional paella dish; the Spicy Paella. Lucky tip: Adjust the seasoning by adding a little salt and pepper, and garnish with parsley.
View Recipe
BUTTERNUT GOULASH
This goulash is equally delicious with Lucky Star Pilchards in Tomato. Butternut's cousin, the pumpkin, can easily be used in this recipe. Both are family of the gem squash, baby marrow and hubbard squash and are enormously popular today.
View Recipe