PILCHARD CURRY BUNS
Mouth-watering flavours inside a heated bun. Try our Pilchard Curry Buns recipe that serves 6. Lucky tip: Combine the melted butter with the garlic and gently brush over the dough balls, then bake for 30 minutes until golden.
View Recipe
TUNA PHYLLO SAMOOSAS WITH CUCUMBER RAITA
Our Tuna Phyllo Samoosas With Cucumba Raita recipe makes for the ideal side dish. Stuffed with fetta cheese and our Lucky Star Tuna, you can prepare this dish in 7 easy steps. Lucky tip: Brush with butter and sprinkle with sesame seeds, then bake for 15 – 20 minutes until golden.
View Recipe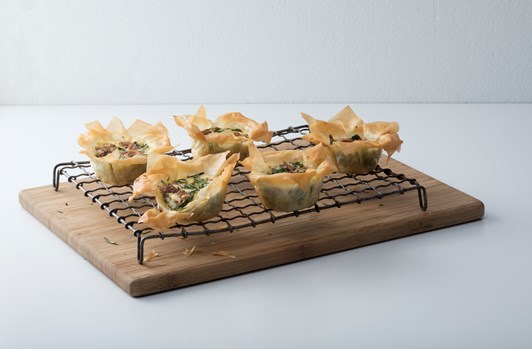 PILCHARD PHYLLO PARCELS
A delicious savoury, filled with pilchards and spinach, try our First-Promotion-Celebration Pilchard Phyllo Parcels recipe. Lucky tip: Substitute half of the cream with milk for a less rich taste.
View Recipe