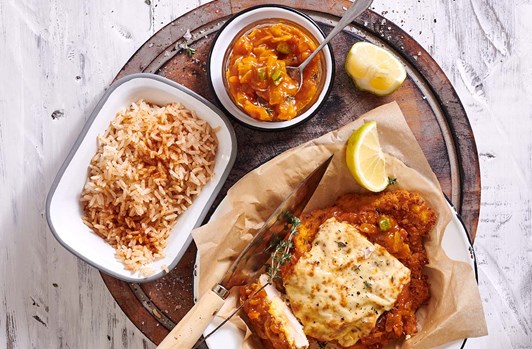 CHICKEN SCHNITZEL WITH CHAKALAKA & MOZZARELLA TOPPING
Let this delicious crunchy Chicken Schnitzel With Chakalaka & Mozzarella Topping recipe satisfy the whole family, topped with Mozzarella cheese. Lucky tip: Serve with spicy rice or potatoes.
View Recipe
PILCHARD STUFFED CABBAGE ROLL BAKE
Try our Pilchard-Stuffed Cabbage Roll Bake recipe that serves 8 and made with our Lucky Star Pilchards in Tomato Sauce. Lucky tip: Bake in the oven for 20 – 25 minutes and finish under the grill for 2 minutes to brown the crumb layer.
View Recipe
PILCHARD MEATBALLS IN SALAD CUPS
Our Pilchard Meatballs In Salad Cups recipe makes for the ideal tasty and satisfying family snack. This dish is packed with protein and makes 12 cups. Lucky tip: Top the meatballs with cucumber and carrots.
View Recipe