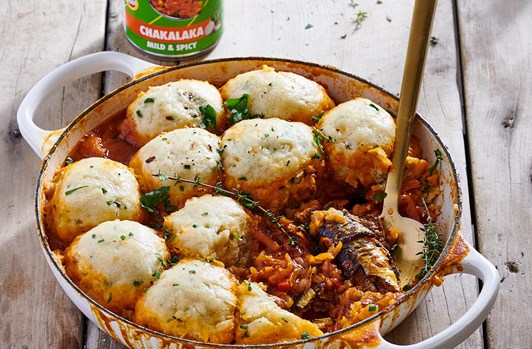 PILCHARD STEW WITH CHALALAKA DUMPLINGS
Prepare it as a main dish or side dish in 5 easy steps; our Pilchard Stew with Chakalaka Dumplings is filled with flavour. Lucky tip: This recipe is perfect for a date for 2.
View Recipe
PILCHARD CURRY BUNS
Mouth-watering flavours inside a heated bun. Try our Pilchard Curry Buns recipe that serves 6. Lucky tip: Combine the melted butter with the garlic and gently brush over the dough balls, then bake for 30 minutes until golden.
View Recipe
PILCHARD LASAGNE ROLL UP BAKE
Satisfy your family and give your friends a taste of home with our Pilchard Lasagne Roll-Up Bake recipe. Lucky tip: Sprinkle over some grated cheese and bake in the oven for 30 - 35 minutes, and serve alongside a fresh green salad once done.
View Recipe