PILCHARD BURGERS WITH CHAKALAKA
Not only do you have the opportunity to make the famous Lucky Star burger, you get to show off with your guests by using our new Chakalaka sauce! This recipe is certainly not one to be missed!
View Recipe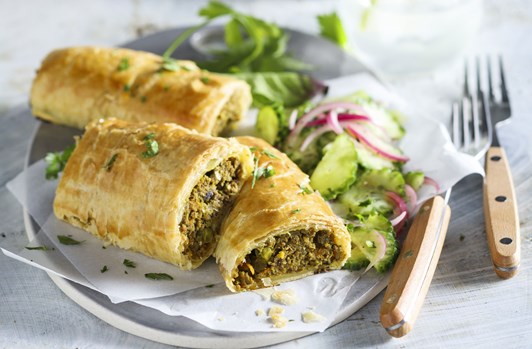 CURRIED FISH PIES WITH PICKLED CUCUMBER SALAD
Our Curried Fish Pies recipe is the ideal savory dish to be enjoyed with family and friends, with a pickled cucumber salad to top it off. Lucky tip: Bake the pastry until crisp and golden (30 - 35 minutes).
View Recipe
PILCHARD SHAKSHUKA
Turn basic toatsties into Pilchard Shakshuka toasties. Prepare this flavoursome recipe for your family or friends in 30 minutes. Lucky tip: Serve directly from the saucepan and garnish with parsley.
View Recipe