Feed a Family Pilchard Curry Pie
Feed a Family Pilchard Curry Pie
View Recipe
SAUCY FISH MEATBALLS & SPAGHETTI
A great spin on the traditional spaghetti and meatballs, our Saucy Fish Meatballs & Spaghetti recipe is great for a lunch or dinner dish. Lucky tip: Pile the spaghetti into pasta bowls, top with four to five fish meatballs per person and scatter a few basil leaves on top of each serving.
View Recipe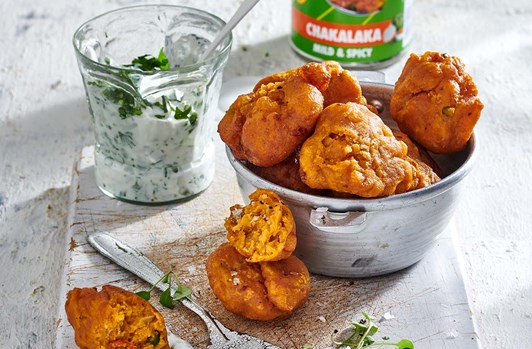 CHAKALAKA CHILLI BITES
This mouthwatering Chakalaka Chilli Bites are full of flavour. Prepare this easy recipe in 3 steps using our Lucky Star Chakalaka Mild & Spicy sauce. Lucky tip: Chop the remaining coriander, then mix it with plain yoghurt and use it as a dip.
View Recipe