MSANZI-LICIOUS PAP CUPS RECIPE
Our Msanzi-Licious Pap Cups recipe is a great finger-food option. Add some flavour by serving it with mayonnaise or mango atchar! Lucky tip: Spoon the warm pilchards into the pap cups and top it with grated cheese and chopped parsley.
View Recipe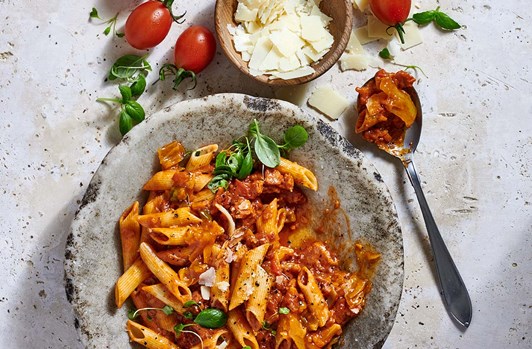 CHAKALAKA CREAMY PASTA
Add some Chakalaka to your usual pasta by trying our Chakalaka Creamy Pasta recipe. Serve it with a sprinkle of fresh basil and parmeasan cheese.
View Recipe
KASI-STYLE CHAKALAKA SALAD
Need a new salad recipe? Try this yummy Kasi-Style Chakalaka Salad recipe in 4 simple steps. Lucky tip: Season the salad with salt and pepper, and serve hot or cold as a side dish.
View Recipe