PILCHARD & BEAN WRAP
Wraps make for the perfect lunch option, and its easy to make! Our Pilchard & Bean Wrap is filled with pilchards and beans. Lucky tip: Dollop cottage cheese on the wraps.
View Recipe
PILCHARD CURRY BUNS
Mouth-watering flavours inside a heated bun. Try our Pilchard Curry Buns recipe that serves 6. Lucky tip: Combine the melted butter with the garlic and gently brush over the dough balls, then bake for 30 minutes until golden.
View Recipe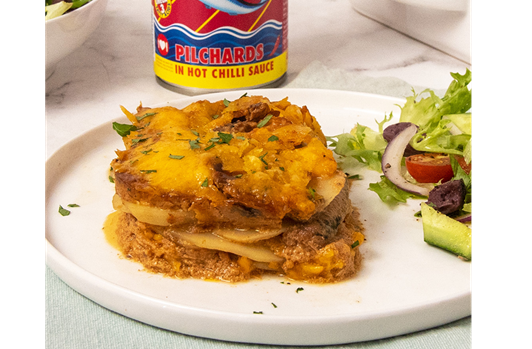 Creamy Fish Potato Bake
Prepare a Creamy Fish Potato Bake with our Lucky Star Pilchards with Hot Chilli sauce for a dinner served in style. Simply garnish with parsley and serve warm! Lucky Tip: Finish with the pilchard mixture as the final layer.
View Recipe