LUCKY STAR PILCHARD & NOODLE SALAD
Make all of your noodle-lovers smile with our Lucky Star Pilchard & Noodle Salad recipe, using the Lucky Star Pilchards in Chilli Sauce. Lucky tip: Mix mayonnaise, plain yoghurt and finely chopped parsley together and pour it over the dish.
View Recipe
Feed a Family Pilchard Curry Pie
Feed a Family Pilchard Curry Pie
View Recipe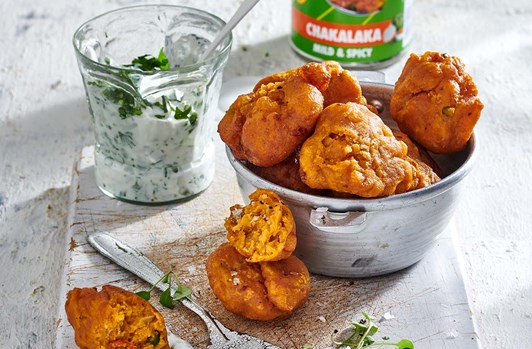 CHAKALAKA CHILLI BITES
This mouthwatering Chakalaka Chilli Bites are full of flavour. Prepare this easy recipe in 3 steps using our Lucky Star Chakalaka Mild & Spicy sauce. Lucky tip: Chop the remaining coriander, then mix it with plain yoghurt and use it as a dip.
View Recipe