SARDINES OPEN SARMIE
With so many sandwich options to choose from, try our Sardine Open Sarmie recipe, topped cottage cheese, rocket leaves, onions and tomatoes. Lucky tip: Finish with a light sprinkling of pepper.
View Recipe
PILCHARD CURRY BUNS
Mouth-watering flavours inside a heated bun. Try our Pilchard Curry Buns recipe that serves 6. Lucky tip: Combine the melted butter with the garlic and gently brush over the dough balls, then bake for 30 minutes until golden.
View Recipe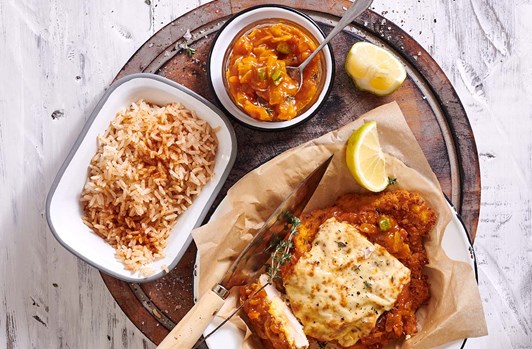 CHICKEN SCHNITZEL WITH CHAKALAKA & MOZZARELLA TOPPING
Let this delicious crunchy Chicken Schnitzel With Chakalaka & Mozzarella Topping recipe satisfy the whole family, topped with Mozzarella cheese. Lucky tip: Serve with spicy rice or potatoes.
View Recipe