TUNA PHYLLO SAMOOSAS WITH CUCUMBER RAITA
Our Tuna Phyllo Samoosas With Cucumba Raita recipe makes for the ideal side dish. Stuffed with fetta cheese and our Lucky Star Tuna, you can prepare this dish in 7 easy steps. Lucky tip: Brush with butter and sprinkle with sesame seeds, then bake for 15 – 20 minutes until golden.
View Recipe
SARDINES OPEN SARMIE
With so many sandwich options to choose from, try our Sardine Open Sarmie recipe, topped cottage cheese, rocket leaves, onions and tomatoes. Lucky tip: Finish with a light sprinkling of pepper.
View Recipe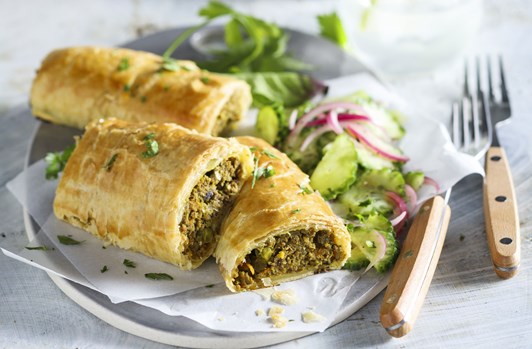 CURRIED FISH PIES WITH PICKLED CUCUMBER SALAD
Our Curried Fish Pies recipe is the ideal savory dish to be enjoyed with family and friends, with a pickled cucumber salad to top it off. Lucky tip: Bake the pastry until crisp and golden (30 - 35 minutes).
View Recipe